Event Profile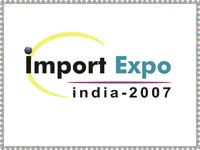 Import Expo India is a premium B2B exhibition where national and international companies can showcase their new products and services related to the automobiles, construction, furniture, hardware, IT, gifts, toys & electronic industry. The exhibition provides the best opportunities of export in India. Import Expo India acts as a platform for importers and exporters to network and enhance their business on a large scale.
Highlight
Import Expo India focuses on promoting the business and developing new business associates all over the world. The exposition will provide thorough demonstration of quality products. A world class seminar will also be conducted to create awareness among buyers. The seminar will be addressed by eminent international speakers of the industry.
Visitor Profile
Targeted visitors at the Import Expo India trade fair would be: importers and exporters, buyers, traders, buying agents, architects and engineers, builders, construction trade persons, interior designers, institutional representatives, government agency representatives, business persons, HNI customers, and media.
Exhibitor Profile
Targeted exhibitors at Import Expo India exhibition would be the companies/firms dealing in: furniture & fixture, kitchen accessories, sanitary accessories, granite, toy, gifts, information technology, electronics, lighting, construction glass, telecommunication, automobiles, hardware, marble & tiles.