Event Profile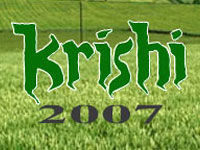 Krishi 2013 is an international agricultural trade fair & conference, organized by Media Exhibitors in association with the Maharashtra Chamber of Commerce, Industry & Agriculture, shall focus on the global agro innovations and enormous potential of Indian agriculture market. It will provide a unique platform for farmers & government officials to find solutions for Indian agricultural industry. The Krishi 2013, an International Agricultural Trade Fair & Conference, shall function as an Agro Business Hub where investors could explore newer possibilities of business in the country.
Visitor Profile
The visitor profile at Krishi 2013 exhibition would include: farmers, businessmen, Associations and research institutions, Senior representatives of Indian companies,traders, delegates, suppliers, etc...
Exhibitor Profile
The exhibitor profile at Krishi 2013 exhibition would include:
Water Management Technology, Aquaculture, State Marketing Boards, Farm Implements & Machineries, Organic Farming, Food Processing, Storage & Logistics, Plant Growth Regulators, Certification Agencies, Farm Tech, Dairy & Livestock, Horticulture, IT in Agriculture, etc...