Event Profile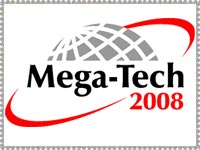 Mega Tech Trade Fair is organized to showcase recent products, technologies, and machineries for test marketing. This is the third edition of Mega Tech exhibition. The exhibition has been promoted to highlight the ever-increasing needs of the buying population of India's most industrialized state, Maharashtra. Earlier exhibition was highly successful and was immensly appreciated by the visitors, press and participants.
Visitor Profile
The target visitors in Mega Tech Exhibition would be: Professionals from Production, Engineering, Plant, Operations, Stores, Maintenance, R & D, petrochemicals, refining, sugar, energy, chemical, pharmaceutical, paper, agri-food, textile fibre, steel, plastic materials, brewery, cement, dairy industries and other related processing sectors.
Exhibitor Profile
Personnel related to Industrial Electronics & Electricals, Machine Tools & Engineering, Process Control & Instrumentation, Heat Exchangers, Automation Control Systems, Testing, Measuring & Surface Treatment, Energy Conservation Equipment & devices, Machine Tools & Accessories, Power Tools & Accessories, Material Handling Equipment & Storage Systems, Welding, Industrial Safety & Security equipment, Metal Working & Cleaning Equipment and Accessories can exhibit at Mega Tech Trade Fair.