Event Profile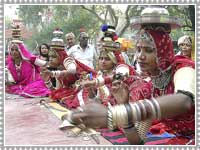 The Surajkund Crafts Mela is held every year in the month of February in Haryana. The festival is also popular amongst the residents of Delhi. It was held for the first time in the year 1981. Surajkund Crafts Mela acts as a platform for displaying folk arts and crafts from all over the nation. Suraj Kund Handicrafts Fair is a unique opportunity for the talented artists, weavers, painters, sculptors and craftsmen from different regions of India, to display their skill. The whole preparation of the fair is done, keeping a particular state in mind. Every year a new state is chosen as the theme and the entire decoration is changed accordingly. Handicrafts of some of the states showcased at the Surajkund Crafts Mela are:
Banjara and Bunni embroidery of Gujarat
Phulkari embroidery of Punjab
Lace and crochet from Goa
Sandalwood and rosewood carving of South India
Kantha work of West Bengal and North Eastern states
Chikan work of Lucknow
Chikri woodcraft of Kashmir
The festival is highlighted by the special Natyashala folk dances and musical evenings, organized at the open-air theatre.