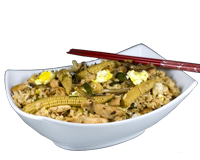 Baby Corn Recipes
Baby Corn Mushroom Masala is a spicy and delicious dish.

Corn Pakoras is a lip-smacking tea time snack.

Crispy Baby Corn is a crisp, tender and delicious delicacy from the Thai cuisine.

The crispy Baby Corn Fry is an ideal snack during monsoon and winter season.

Baby Corn Finger Chips are a refreshing and healthy change from potato chips.

Baby Corn Pepper Dry is a popular Chinese appetizer.

Baby Corn Gravy is a delicious, mouth-watering delicacy from the Tamilian cuisine.

Make a light, colorful and fresh dish with cottage cheese and baby corn.

Baby Corn Pepper Fry is a delicious and yummy appetizer.

Crispy Fried Vegetables is a crispy and delectable snack.

A delicious salad, Baby Corn Salad serves as a great healthy appetizer as well.

Enjoy the delicious blend of baby corn and capsicum in a mouth-watering blend of spices.

Baby Corn Masala is a yummy and spicy vegetable that is very popular in North India.

Dry Baby Corn Manchurian makes for a scrumptious appetizer.

Baby corn pulao is a very popular and delectable dish from the Indian cuisine.

Baby Corn And Egg Flower Soup is an example of how Chinese can never go wrong with soups.

Corn Rice is a very popular recipe.

Banana Kesari bath is a very popular recipe.

Baby Corn Fritters is a crispy and delicious snack that can be best enjoyed with tea or coffee.

Baby Corn Broccoli makes for a crunchy and delicious side dish.

Baby Corn and Bean Salad is very nutritious, tasty and easy to prepare.

Roasted Corn Salsa is a yummilicious Mexican salad to die for.

Baby Corn Capsicum Curry is both delicious and mouth watering and can be savored at any time of the year.

Baby Corn Korma is a Hyderabadi delicacy, which is rich in taste and high in calories.

Tandoori Baby Corn is a delicious Punjabi recipe, popular throughout North India.