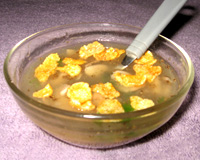 Clear Soups Recipes
Asparagus Duck Soup is a very popular and healthy soup.

Boiled Peanut Soup is a non-vegetarian delicacy and a healthy appetizer.

Chinese Hot and Sour Soup serves as a great starter for all non-vegetarians.

Clear Chicken Noodle Soup is a traditional soup from Sikkim, served with steamed wontons.

The simple and spicy Clear Cottage Cheese Soup makes a good appetizer for winters.

Clear Onion Soup is not only delicious and appetizing, it is equally easy to prepare.

The tasty Clear Tomato Soup is an ideal treat for almost everyone.

The warm and inviting Clear Vegetable Soup is ideal for the winter season.

Clear Vegetable Stock, if prepared in the right way, can be used in a a number of other recipes.

Extreme Diet Soup is a very popular recipe, especially amongst weight watchers.

French Fish Soup is a great appetizer that is very easy to prepare.

Japanese Clear Soup is a healthy, non-vegetarian soup that would simply fill your appetite.

Soybean Sprouts Clear Soup is a simple, tasty and healthy soup, known to benefit in various ways.

Suimono Clear Soup is a traditional Japanese delicacy.

Vegetable Clear Soup is a very yummy recipe.