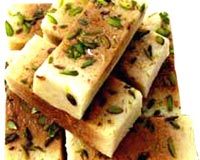 Ramnavami Recipes
Capsicum Raita is a delicious and nutritious recipe.

The simple and spicy Carrot Methi Subzi makes a good appetizer for winters.

Chana Usli is a very delicious and popular recipe of Karnataka.

Cucumber Chutney is a tasty and unique chutney recipe.

Dodhi No Halwo is a delicious Parsi recipe.

Jeera Aloo is a very popular recipe.

Kalakand is a very popular Indian sweet.

Keri Nakheli Chana Nidar is a common Indian recipe which has an amazing taste.

Khattey Karele is a delicious lunch recipe.

Kosmari is a delectable salad that is quite popular in South Indian cuisine.

Methi and Palak Pulav is a delicious rice recipe, perfect for lunch and dinner.

The Methi Dal Dhokli is a delicious treat from the Gujarati cuisine.

Moong Dal Usal has a distinctive taste and aroma that can make your mouth water.

Neer Mor is a very popular recipe.

Paanagam is a healthy drink usually prepared and distributed to the devotees during Ramnavmi.

Panchamritham is a very popular recipe.

Sabudane Ki Kheer is a very popular dessert served on the occasion of Ramnavmi.