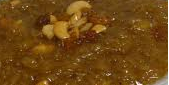 Aravana Payasam Recipe
Aravana Payasam Recipe
Preparation Time
20 Minutes
Cooking Time
40 Minutes
Difficulty
Easy
Rating
9.5 /

10

(2 votes)
Recipe Type
Veg.
Serves
5
Calories Per Serving
236
Ingredients:
4 cup Jaggery
1 tsp Cardamom Powder
1 Raisins(Dried Grapes)
10 Cashew
2 cup(473ml) Rice
1 cup (237 ml) Ghee
p
How to make Aravana Payasam:
Wash rice and fry in ghee.
Cook the rice by adding water.
Add 1/2 cup of ghee to the rice and blend it on low flame.
Put jaggery to the rice and cook for some time.
Add rest of the ghee slowly on low flame so that rice, ghee, jaggery can mix well.
Garnish with raisins.
Suggestions:
Serve hot