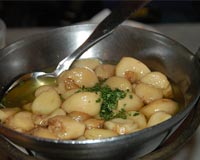 Bagna Calda Recipe
Bagna Calda Recipe
Difficulty
Easy
Rating
10.0 /

10

(1 vote)
Recipe Type
Non Veg.
Ingredients:
1-1/2 cups peeled garlic cloves
1-1/2 cups olive oil
2 ounce butter
1can (2 ounce) anchovies
How to make Bagna Calda:
Place all ingredients in oven casserole, cover and place in oven at 275 degree F for 1 and 1/2 hours.
Bagna Calda is ready.
Serve with bread and cut up vegetables.