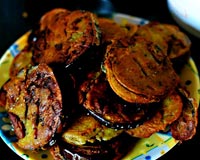 Baingan Fry Recipe
Baingan Fry Recipe
Difficulty
Easy
Rating
7.8 /

10

(18 votes)
Recipe Type
Veg.
Ingredients:
8 Brinjals (sliced)
3 tsp Salt
Oil for frying
4 tsp Chilly powder
How to make Baingan Fry:
Marinate brinjal slices for 20 minutes with chilly powder and salt.
Heat vegetable oil in a pan and fry the marinated brinjal.
Remove the fried brinjal in a different vessel, remove excess oil and serve hot.