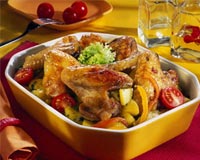 Baked Turkey Wings Recipe
Baked Turkey Wings Recipe
Difficulty
Average
Rating
8.2 /

10

(10 votes)
Recipe Type
Non Veg.
Ingredients:
4 Turkey wings, halved
4 Small turkey drumsticks

For Sauce
3/4 Cup catsup
1/4 Cup lemon juice
1 Medium-size onion, chopped
2 tbsp Vegetable oil
1 tbsp Dijon mustard
2 tbsp Brown sugar
1 tbsp Worcestershire sauce
1 tsp Chili powder
Tabasco sauce to taste
How to make Baked Turkey Wings:
Preheat the oven to 350 degrees F.
Place the turkey wings and drumsticks into a 3-quart oven-proof dish, keep aside.
Take a saucepan and fry onion into hot oil for about 2 minutes, until brown.
Reduce the heat to low.
Add brown sugar and simmer over medium heat for 2 minutes, keep stirring.
Remove from the heat.
Add lemon juice, Worcestershire sauce, catsup, Dijon mustard, chili powder, and Tabasco sauce, mix well.
Pour the sauce over wings and drumsticks.
Cover it and bake into preheated oven for about 1 hour.
Remove the excess fat.
Uncover and bake for about 35 minutes more, till the wings and drumsticks are tender and juicy.