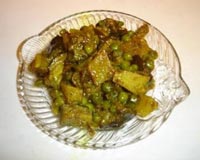 Bhugi Bhaji Recipe
Bhugi Bhaji Recipe
Difficulty
Easy
Rating
8.0 /

10

(6 votes)
Recipe Type
Veg.
Ingredients:
2 Medium potatoes, cut into 4 pieces
2 Finely chopped green chillies
A small piece of ginger, chopped
A pinch of asafoetida
1 Finely chopped onion
1 Chopped eggplant
1/2 Cup peas
1/2 tsp Garam masala
Chopped coriander leaves
1/2 tsp Red chilli powder
1 tsp Coriander powder
2 tbsp Oil
Salt to taste
1/2 Cup water
How to make Bhugi Bhaji:
Heat oil and saute the onions till they turn light brown.
Add asafetida and fry the mixture for a minute.
Add potatoes, peas, eggplant pieces and spices.
Stir and fry for about 8 minutes.
Pour 1/2 cup water and simmer till the vegetables are well done.
Sprinkle with garam masala.
Garnish the vegetables with chopped cilantro.
Ready to serve.