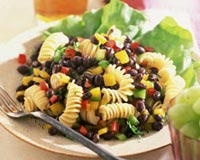 Black Bean Pasta Recipe
Black Bean Pasta Recipe
Difficulty
Easy
Rating
9.0 /

10

(5 votes)
Recipe Type
Veg.
Ingredients:
4 Ribs of celery, chopped
2 Cloves of garlic, chopped
1 tsp Crushed red pepper flakes
2 tbsp Olive oil
1 Can of black beans
1 Can of diced tomatoes
3 Roma tomatoes, chopped
8 Ounces of penne pasta, cooked
Parmesan cheese to sprinkle
How to make Black Bean Pasta:
Heat 2 tbsp oil in pan and fry the celery for about 2 minutes.
Add garlic and fry for 3 minutes more.
Now add black beans and tomatoes.
Remove the pasta when cooked well.
Drain it and add to the skillet.
Cook for another three minutes until the ingredients get mixed.
Sprinkle with Parmesan cheese and serve.