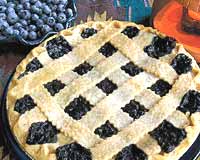 Blueberry Pie Recipe
Blueberry Pie Recipe
Difficulty
Average
Rating
8.7 /

10

(6 votes)
Recipe Type
Veg.
Ingredients:
3 Cups frozen blueberries
1 tbsp Cornstarch
1/4 tsp Ground cinnamon
2/3 Cup water
1/4 Cup medium sherry
2 tsp Lemon juice
1 Baked pie crust
1/3 Cup sugar
1/4 tsp Salt
How to make Blueberry Pie:
Wash the blueberries and combine it with cornstarch, cinnamon, sugar and salt. Mix well.
Now add the lemon juice and water and stir properly.
Put the berries in the pie shell and spread evenly.
Microwave the mixture uncovered at 375 degree F for 1 hour.
Refrigerate for 2 hours. Top with sour cream.
Blueberry Pie is ready.