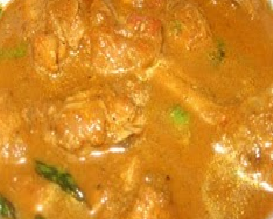 Chettinad Chicken Kulambu Recipe
Chettinad Chicken Kulambu Recipe
Preparation Time
15 Minutes
Cooking Time
30 Minutes
Difficulty
Easy
Recipe Type
Non Veg.
Serves
4
Calories Per Serving
503
Ingredients:
Ingredients:
1/2 kg Chicken
1 Onion (chopped)
1Tomato (chopped)
1/2 tsp Turmeric Powder
1/2 tsp Chill powder
1/2 tsp Coriander Powder
1/2 tsp Mustard seeds
1/2 tsp Cumin seeds
1/2 tsp Fennel seeds
Oil and Salt as required

Roast and make a paste of:
5 Red Chillies
2 tsp Coriander seeds
1 inch Ginger
7 Garlic (small)
2 inch Cinnamon
2 Cardamoms
1 tsp Peppercorns
5 Cloves
4 tsp Coconut (grated)
5 Curry Leaves
How to make Chettinad Chicken Kulambu:
Marinate the chicken in turmeric powder and salt keep aside for five minutes.
Roast the red chillies, coriander seeds, ginger, garlic, cinnamon, cardamom, peppercorns, cloves, curry leaves and grated coconut in a pan with a little oil. Wet grind to a fine paste.
Heat oil in a pan and add mustard seeds, cumin seeds and fennel seeds.
Once it splutters add onion and fry till it becomes golden brown in color.
Add tomatoes and fry till it becomes soft.
Add coriander powder, turmeric powder, chili powder and fry for 3 to 5 minutes.
Add the finely ground paste and fry for 2 to 3 minutes.
Finally add the marinated chicken, salt and water.
Cover, the pan with a lid and cook for about 20 minutes or till the chicken pieces are cooked.
Garnish with fired curry leaves and coriander leaves.
Suggestions:
Minced meat gravy or dry can be served with rice or roti.