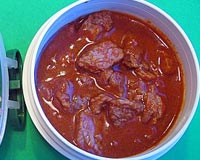 Chile Colorado Recipe
Chile Colorado Recipe
Difficulty
Average
Rating
10.0 /

10

(1 vote)
Recipe Type
Non Veg.
Ingredients:
2 tbsp Vegetable oil for browning
5 Pounds beef chucks cut into 1-1/2inch cubes
Flour for dredging
2 (28 ounce) Cans whole peeled tomatoes, mashed
2 (7 ounce) Cans diced green chilies
12 Serrano chilies, finely chopped
2 Small yellow onions, finely chopped
12 Fluid ounces beer
20 Fluid ounces water
2 tbsp Cumin
1 Bunch cilantro, chopped
Salt and pepper to taste
How to make Chile Colorado:
Heat oil in a heavy bottomed pan over medium heat.
Dredge beef cubes in flour. Cook in hot oil until browned on all sides, reducing heat if necessary.
Add tomatoes, green chilies, serrano chilies, onions, beer, water, cumin, salt, and pepper.
Cover and simmer for 2 hours. Add chopped cilantro, and simmer 1 hour longer.
Chile Colorado is ready.