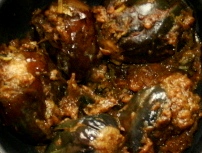 Ennai Kathirikkai Fry Recipe
Ennai Kathirikkai Fry Recipe
Preparation Time
30 Minutes
Cooking Time
15 Minutes
Difficulty
Average
Recipe Type
Veg.
Serves
4
Calories Per Serving
704
Ingredients:
5 Brinjals (small size)
7 Onions (large size) (finely grind)
2 Tomatoes (medium size) (finely grind)
2 tsp Coconut (grated)
5 cloves Garlic (finely grinned)
1 ½ tsp Ginger Paste
1 tsp Chili Powder
1 tsp Coriander Powder
½ bunch Curry Leaves (finely grind)
½ stick Cinnamon (finely grounded)
2 Cardamoms (finely grounded)
4 tbsp Oil (as required)
Salt to taste
How to make Ennai Kathirikkai Fry:
Wash clean the brinjals and remove the stems from it.
Split cut the brinjals in four halves from the stick end leaving half at the bottom portion.
At medium heat place a non-stick pan with 1tbsp oil and add the onion paste then stir it golden fry.
Add rest of the ingredients then stir it for seven minutes.
Put aside the fried masala and once it cools stuff it inside the bringals.
On to the same pan add rest of the oil and gently place the stuffed brinjals over it once it gets heated.
Cover the pan and keep the heat at low mode then open it to stir it upside down.
Suggestions:
Best serve it with pulao, paratha, and roti.