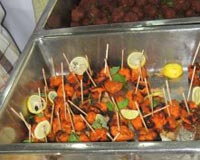 Galouti Kebab Recipe
Galouti Kebab Recipe
Difficulty
Average
Rating
3.8 /

10

(13 votes)
Recipe Type
Non Veg.
Ingredients:
800 gms Lamb
2 Ginger
2 Garlic flakes
2 tbsp Butter
4 tbsp Papaya paste (raw)
1 tsp Red chilli powder
1/2 tsp Mace powder
4 tbsp Bengal gram
Ghee for frying
Salt to taste
How to make Galouti Kebab:
Mince the lamb.
Grind ginger and garlic to make a paste.
Add ginger garlic paste, papapya paste, red chilli powder, mace powder, mace powder, butter and Bengal gram.
Mix them well.
Keep it for cooling.
Form patties from the mixture.
Heat the oil and fry till golden brown in colour.
Serve hot.