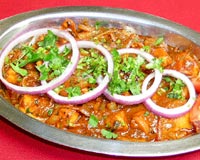 Karahi Chicken Recipe
Karahi Chicken Recipe
Difficulty
Average
Rating
6.7 /

10

(14 votes)
Recipe Type
Non Veg.
Ingredients:
500 gms Chicken
4 Large onions
4 Large tomatoes
1/2 tsp Turmeric powder
1 tsp Red chili powder
1 tsp pepper
4 Garlic flakes
1 Ginger
2 Cups oil
Salt, to taste
How to make Karahi Chicken:
Grind ginger and garlic to make a paste.
Heat the oil and put turmeric powder, red chilli powder, pepper and ginger garlic paste. Add salt to taste.
Fry it well.
Add chicken and cook it till it turns smooth.
Add chopped onions and tomatoes.
Cook it for 5 minutes.
Serve it hot with pulao.