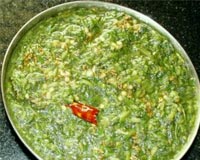 Keerai Masiyal Recipe
Keerai Masiyal Recipe
Difficulty
Average
Rating
5.0 /

10

(4 votes)
Recipe Type
Veg.
Ingredients:
1/2 Kg Spinach
1/2 Cup moong dal
3 Green chillies
1 tsp Cumin seeds
1/2 tsp Urad dal
4 Garlic flakes
Salt to taste
Oil for frying
How to make Keerai Masiyal:
Wash the spinach and cut it evenly.
Now wash the moong dal and keep it in pressure cooker.
Add 1/2 cumin seeds, red chillies, minced garlic and spinach to the moong dal.
Now pour 1/2 cup water and add salt.
Mix it well.
Cook all the ingredients.
Now smash the cooked mixture.
Heat the oil.
Add cumin seeds and urad dal.
Now add smashed spinach mixture.
Boil till the mixture turns thick.
Serve it with rice.