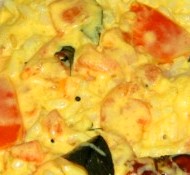 Kerala Moru Curry Recipe
Kerala Moru Curry Recipe
Preparation Time
20 Minutes
Cooking Time
15 Minutes
Recipe Type
Veg.
Serves
4
Calories Per Serving
15
Ingredients:
3 cups Yogurt (finely whipped)
1 Red Tomato big (finely sliced)
1/2 tsp Mustard Seeds
2/4 tsp Fenugreek Powder (Uluva)
1/2 tsp Cumin Powder (Jeera )
3 pinch Turmeric Powder
2 large Dried Red Chilies
3 Green Chilies (slit in the middle)
1 strand of Curry Leaves
2 tbsp Oil
1½ cups Water
Salt to taste
How to make Kerala Moru Curry:
At high flame place a pan and heat it then add the mustard seeds to splutter.
Immediately lower the flame once the seeds get roasted.
Pour oil then add curry leaves, red chilies, green chilies, salt, turmeric, cumin and fenugreek powder and tomatoes one at a time while keep stirring the items continuously.
Higher the flame at medium mode and allow the tomatoes to become tender.
Add the yogurt and stir it then pour the water.
Lower the heat and seal the pan then simmer it for 3 minutes without allowing it to boil.
Open the lid to stir it and put it aside for serving.
Suggestions:
Best serve it with ghee rice and plain rice.