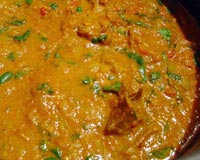 Lamb Curry Recipe
Lamb Curry Recipe
Difficulty
Average
Rating
4.7 /

10

(3 votes)
Recipe Type
Non Veg.
Ingredients:
900 gms Lamb
2 Large onions
12 Garlic flakes
4 Potatoes
3 tsp Turmeric powder
5 tsp Garam masala
1 Bunch cilantro
4 Cups water
Few Curry leaves
2 Cups oil
Salt to taste
How to make Lamb Curry:
Cut lamb into cubes
Chop the onions.
Wash the potatoes, peel it and cut it in to square pieces.
Heat the oil.
Fry chopped onions till the colour changes to golden brown.
Mix turmeric powder, crushed garlic and green chillies.
Stir it properly.
Add curry leaves and stir in lamb cubes.
Mix garam masala and salt
Cook for 5 minutes.
Pour water in mixture.
Cover it and cook for 10 minutes.
Add potato pieces and again cook it for 20 minutes.
Cook till the lamb pieces turn soft.
Adorn with cilantro.
Lamb Curry is ready.