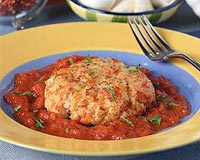 Lobster Cake Recipe
Lobster Cake Recipe
Difficulty
Average
Rating
10.0 /

10

(1 vote)
Recipe Type
Non Veg.
Ingredients:
8 slices white Bread
4 Eggs (separated)
2 tbsp Butter (melted)
4 cups cooked Lobster (cut into chunks)
1 tsp grated Onion
1 tsp Worcestershire Sauce
1/2 tsp Mustard (dry)
Butter (for frying)
How to make Lobster Cake:
Tear bread slices into pieces.
Pour butter over bread. Toss to coat the bread pieces well. Keep aside for 20 minutes.
Mix egg yolks, lobster, grated onion, Worcestershire sauce, and mustard together.
Beat the egg whites and fold into the lobster mixture.
Add the bread pieces into the lobster mix. Mix well.
Make patties from this mixture.
Heat butter in a frying pan.
Cook patties till golden brown in color.
Serve hot.