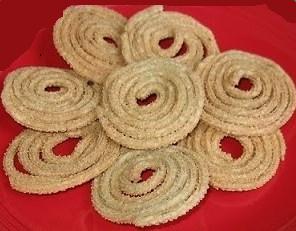 Maida Murukku Recipe
Maida Murukku Recipe
Preparation Time
60 Minutes
Cooking Time
20 Minutes
Difficulty
Average
Recipe Type
Veg.
Ingredients:
½ kilo Maida
50 gm Butter
¼ kilo Oil
1 tsp Sesame
Asafetida
1 tbsp Salt
1 cup Black Gram Dal Flour (Ulutham Paruppu Maavu)
How to make Maida Murukku:
Heat water using pan
Place a cloth preferably a cotton cloth on the idly plate.
Spread maida on the cotton cloth.
Cover it with a lid.
Then Steam maida for about ½ an hour.
Remove maida from the cloth and spread it on a big plate to dry.
Soak a pinch of asafetida in water.
mix maida, black gram dal flour, sesame, asafetida water, salt and butter in water little by little and knead well to make dough.
Heat oil in a pan and put the dough using murukku mold.
Leave murukku in oil till it turns golden brown.
Drain out the Maida Murukku from the oil.
Suggestions:
Serve it with tea.