Indian Recipes : Mango Shake Recipe
Mango Shake is a very popular recipe. Learn how to make/prepare Mango Shake by following this easy recipe.
Mango Shake Recipe
Difficulty
Rating

Recipe Type




Ingredients:

• 1 Ripe Mango
• 4 tsp Sugar
• 1 cup Milk
• Essence, as per requirement


How to make Mango Shake:

| | |
| --- | --- |
| • | Boil the milk and allow it to cool down to room temperature. |
| • | Peel and cut the mango and crush in a mixer. |
| • | Pour the milk and sugar; grind once again. |
| • | Serve chill. |
---
---
Recipe Reviews
This site seems to be targeted toward Asian Indians. Local milk is best consumed after boiling to ensure nothing unfortunate happens :)
Submitted by: nds
posted : 21-Oct-2011 03:53 PM
---
I honestly just got milk which was in room temperature and it was good. A bit too sweet though. So I doubled mangoes. added 2 tsp of sugar and 1 tsp of vanilla whey protein and it was better after.
Submitted by: Patrick Pham
posted : 26-May-2011 03:52 AM
---
I just love this recipe but I would like to know why the milk must be booiled first. In any event, I love putting all my mangoes from the tree to good use other than just eating it in its natural form. Please advise.
Submitted by: lynda gold
posted : 12-Aug-2010 08:57 AM
---
Recipe of the Month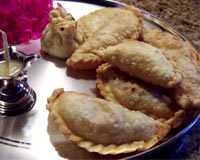 Gujia is a popular sweet dish of north India. Gujia recipe is associated with...