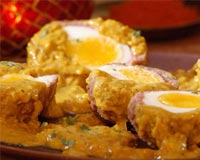 Nargisi Kofta Recipe
Nargisi Kofta Recipe
Difficulty
Average
Rating
9.4 /

10

(12 votes)
Recipe Type
Non Veg.
Ingredients:
4 Eggs (boiled)
300 gms Chicken (minced)
100 gms Besan
6 Green chillies
6 tsp Ginger garlic paste
1 tsp Coriander (chopped)
1 Onion (chopped)
1 tsp Cumin seeds
200 gms Cream
100 ml Milk
75 gms Cashew nuts
2 tsp Pepper powder
3 tsp Onion paste
2 Cinnamons
4 Cloves
4 Cardamoms
Oil for frying
4 tbsp Ghee
Salt to taste
How to make Nargisi Kofta:
Add green chillies, grated ginger, chopped coriander, onion, cumin seeds and salt to the Besan.
Add minced chicken and mix it well.
Prepare dough for this mixture by adding water.
Make balls from this mixture.
Flatten the balls and put egg in the centre.
Heat the oil and fry these balls.
Kofta is ready.
Heat the ghee in a pan.
Add cinnamons, cardamoms, ginger garlic paste, onion paste and tomato puree.
Stir it well and fry for 5 minutes.
Now add pepper powder and turmeric powder.
Fry till oil is separated.
Mix cream, milk and water.
Heat the mixture over low heat for 20 minutes.
Gravy for kofta is ready.
Add koftas in gravy.
Cook for 20 minutes.
Nargisi Kofta is ready.