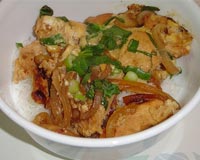 Oyako-donburi Recipe
Oyako-donburi Recipe
Difficulty
Average
Rating
10.0 /

10

(1 vote)
Recipe Type
Non Veg.
Ingredients:
1/4 Cup chicken breasts
1 Onion
1/2 Cup chicken broth
4 Shiitake mushrooms (soaked)
1 Carrot
4 tbsp Soy sauce
2 tbsp White sugar
1/4 Cup green onions (chopped)
4 Eggs (beaten)
Salt to taste
How to make Oyako-donburi:
Cut chicken and soaked mushrooms into strips.
Chop onion into slices.
Heat the oil.
Fry chicken and onions till chicken is cooked.
Stir in the chicken broth.
Cook over low heat.
Now add mushroom and carrots.
Stir for few more minutes.
Add sugar, salt and soy sauce.
Pour beaten eggs over chicken mixture.
Simmer till eggs are cooked.
Serve with rice.