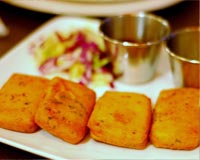 Paneer Pakora Recipe
Paneer Pakora Recipe
Difficulty
Average
Rating
9.0 /

10

(34 votes)
Recipe Type
Veg.
Ingredients:
250 gms Paneer
8 tbsp Gram flour
2-1/2 tsp Red chilli powder
1-1/4 tsp Mango powder
1/4 tsp Cooking soda
Water as requirement
Salt to taste
Oil to fry
How to make Paneer Pakora:
Firstly cut the paneer into thick square pieces.
Sprinkle mango powder and red chilli powder on these pieces.
Mix the gram flour, red chilli powder, soda and salt in a bowl.
Add some water to the mixture to make it thick batter.
Dip each piece of the paneer in this batter.
Heat the oil in a frying pan.
Now put the pieces of paneer in the heated oil.
Fry them till they become golden brown.
Paneer Pakoras are ready.
Serve the Paneer Pakoras with green chutney.