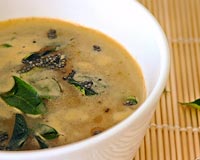 Pepper Rasam Recipe
Pepper Rasam Recipe
Difficulty
Easy
Rating
9.2 /

10

(6 votes)
Recipe Type
Veg.
Ingredients:
1-1/2 tsp Peppercorns
1 Small tomato, cut into small cubes
1 tsp Mustard seeds
1 tsp Cumin seeds
1 Sprig curry leaves
2 tsp Thick tamarind juice
1/2 tsp Sugar
1 tsp Chopped coriander leaves
A pinch of hing
Salt to taste
2 tsp Ghee
6 Cups of water
How to make Pepper Rasam:
Grind the peppercorns to get a soft powder.
Combine it with water, tomato, salt, tamarind juice and sugar.
Put it over low heat and bring it to a boil.
Take a pan and heat ghee in it, fry mustard, hing, curry leaves and cumin.
Add rasam to it.
Now garnish Pepper Rasam with chopped coriander and serve it.