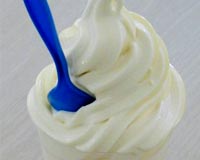 Pineapple Whip Recipe
Pineapple Whip Recipe
Difficulty
Easy
Recipe Type
Veg.
Ingredients:
300 ml Canned pineapple juice
600 ml Pineapple jelly packet
140 ml Water
Sugar
How to make Pineapple Whip:
Dissolve the jelly in 140 ml water.
Stir it in the remaining water and pineapple juice.
Add sugar if needed.
When it becomes cool, whisk until a thick froth is formed.
When there is a trail formation in the froth, put it quickly into a glass dish.
Pineapple Whip is ready.