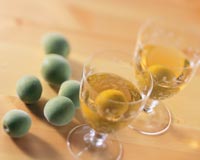 Plum Liquor Recipe
Plum Liquor Recipe
Difficulty
Easy
Rating
10.0 /

10

(1 vote)
Recipe Type
Veg.
Ingredients:
16 cups Plums
4 cups Sugar
3 cups Dark Rum
How to make Plum Liquor:
Wash and quarter the plums.
Fill them in a mason jar.
Add 3 cups of dark rum and 4 cups of sugar.
Turn the jar once every day for 15 days to allow the sugar to dissolve.
Filter out the fruit bits after 16 days.
Plum Liquor is ready.