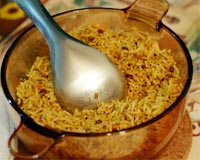 Puliyogare Rice Recipe
Puliyogare Rice Recipe
Difficulty
Average
Rating
9.0 /

10

(26 votes)
Recipe Type
Veg.
Ingredients:
2 cups Cooked Rice
1 cup Tamarind Juice
1 tbsp Sugar
4 tsp Coriander Seeds
2 tsp Mustard Seeds
2 tsp Cumin Seeds
4 tsp Seasme Seeds
1 cup Grated Coconut
1 tsp Hing
2 tsp Urad Dal
1 tsp Channa Dal
Jaggery (1 small piece)
5 Red Chillies
1/2 cup Oil
Few Curry Leaves
How to make Puliyogare Rice:
Roast 1 tsp mustard seeds, 4 tsp coriander seeds, cumin seeds, 2 tsp sesame seeds, ½ tsp channa dal, 1 tsp urad dal one by one.
Grind it to make a fine powder.
Roast the coconut.
Mix the roasted coconut and powder.
Heat oil and add the remaining mustard seeds, sesame seeds, red chillies, urad dal and chana dal.
Add the tamarind juice and jaggery.
Mix salt and allow it to boil.
Add the powdered masala and boil till it turns thick.
Mix it with the cooked rice.
Serve hot.