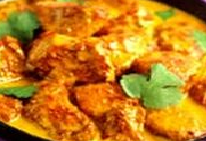 Punjabi Kadhi Recipe
Punjabi Kadhi Recipe
Preparation Time
25 Minutes
Cooking Time
30 Minutes
Difficulty
Average
Rating
8.0 /

10

(1 vote)
Recipe Type
Veg.
Serves
4
Calories Per Serving
220
Ingredients:
For Pakodas:
1 tsp Carom seeds (Ajwain)
1 tsp Red Chili Powder
1 Onion medium (finely chopped)
1/2 cup Fenugreek Leaves (Methi Leaves) (chopped)
1/4 tsp Baking Powder
3/4 cup Gram flour (Besan)
1 inch piece Ginger (grated)
Salt (to taste)
Oil (to deep fry)
For Kadhi:
2 Dried Red Chilies (broken into 2)
6 Black Pepper
1 Onion medium (chopped)
1 tsp Red Chili Powder
1 cup Yogurt
1/4 cup Gram Flour (Besan)
1 tsp Turmeric Powder
1/2 inch Ginger piece (chopped)
1/2 tsp Fenugreek (Methi Dana)
1/2 tsp Cumin seeds
Salt (to taste)
2 tbsp Oil
How to make Punjabi Kadhi:
Put all the Pakoda ingredients except oil in half a cup of water.
Now take a pan and heat up sufficient oil.
Put ½ cup of the gram flour (besan) and deep fry till golden brown and keep on an absorbent paper aside.
Now beat yogurt well and mix the remaining besan and add salt, turmeric powder and three cups of water.
Take another pan and heat 2 tbsp of oil.
Put black pepper, fenugreek seeds, cumin seeds, and red chilies in the pan and stir for ½ a min.
Now add onions and ginger and stir for 1 min and then put yogurt mixture.
Now boil it on low heat for about 15 min.
Put red chili powder and fried pakodas and continue to simmer for 4 to 5 min.
Suggestions:
Serve it with rice or Chapati