Indian Recipes : Sindhi Mutton Biryani Recipe
Sindhi Mutton Biryani is a very popular recipe from the Sindhi cuisine. Learn how to make/prepare Sindhi Mutton Biryani by following this easy recipe.
Sindhi Mutton Biryani Recipe
Preparation Time
Cooking Time
Difficulty
Recipe Type
Serves




Ingredients:

• To Prepare Mutton Curry
• 1 kg Mutton
• ½ kg Potatoes, cut into large chunks
• ½ kg Tomatoes, chopped
• 250 g Yogurt
• 1 tsp Red Chili Powder
• Salt, to taste
• 3 onions, sliced
• 2 tsp Garlic Paste
• 2 tsp Ginger Paste
• 8 Green Cardamoms
• 4 Black Cardamom Pods
• 10 pc Cloves
• 10 pc Black Pepper
• 1 tsp Cumin Seeds
• 2 Cinnamon Stick (Dalchini)
• 2 Bay Leaves
• 250 g Oil
• 6 Green Chilies
• 2 tbsp Coriander Leaves
• 2 tbsp Mint Leaves
• ½ tsp Yellow Food Coloring
• 12 Prunes (Aaloobukharay)

To Prepare Rice
• 1 kg Basmati Rice, (soaked in water for atleast 1/2 an hour)
• Salt, to taste
• 3 Bay Leaves
• 3 Cinnamon Sticks
• 2 Black Cardamom Pods


How to make Sindhi Mutton Biryani:

•
To Prepare Mutton Curry
•
Start with heating the oil in a pan and then frying onion in it till it is light brown in color. Take out ¼ of it in a small bowl and keep it aside.
•
Now, in the same pan add garlic paste, ginger paste, prunes, salt, red chili powder, cloves, green and black cardamoms, black pepper, cumin seeds and cinnamon in it and fry till the tomatoes in tender.
•
When done, add mutton, yogurt and some water and let it cook till the water has evaporated and the meat is tender.
•
In the meanwhile, boil potatoes in a pan until it is half cooked.
•
When the mutton is cooked, add boiled potatoes along with green chilies, mint and coriander leaves to the other prepared mixture and cook it on simmer for 2 to 3 minutes to make mutton curry.

< b>To Prepare Rice
•
Now, take a deep pan, add water and boil rice with salt, bay leaves, cinnamon sticks and black cardamom in it. When the rice is half cooked, remove from the flame and drain water.

How To Proceed
•
Now, take a pot and layer the meat curry with the rice in one on one layers.
•
Sprinkle the food color, fried onions, and chopped mint leaves over the last layer. Now, close it tightly and cook it on low heat until rice is done.
•
Gently mix before serving and serve it hot along with raita, pappad and pickle.
---
---
Recipe of the Month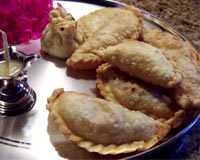 Gujia is a popular sweet dish of north India. Gujia recipe is associated with...