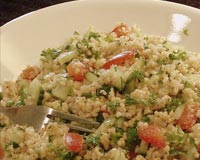 Tabuli Recipe
Tabuli Recipe
Difficulty
Easy
Rating
7.7 /

10

(6 votes)
Recipe Type
Veg.
Ingredients:
1 Small onion
1 tsp Dry mint
1/4 cup Olive oil
1/2 cup fine Bulgur (a type of wheat)
2 bunches Parsley
2 Medium Tomatoes
1/4 cup Lemon juice
1 tsp Salt
Lettuce Leaves for garnishing
How to make Tabuli:
Soak bulgur in sufficient amount of water for 15 minutes.
Drain it well.
Put all ingredients in a cooking bowl and add oil.
Chill this mixture in refrigerator.
Tabuli is ready to serve.
Decorate with lettuce leaves.