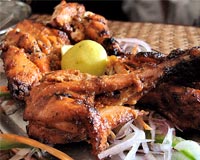 Tandoori Chicken Recipe
Tandoori Chicken Recipe
Difficulty
Easy
Rating
9.2 /

10

(53 votes)
Recipe Type
Non Veg.
Ingredients:
1 kg Chicken
1 tsp Garlic paste
1 tsp Green Chilli paste
1/2 cup Yogurt
1 tsp Red Chilli Powder
1 tsp Garam Masala Powder
1 tsp Ginger paste
2 tbsp Lemon Juice
Vegetable Oil
Salt to taste
How to make Tandoori Chicken:
Clean the chicken. Prick diagonally it with knife or fork all over.
With a mixture of red chilli powder, salt and lemon juice, apply all over the body and marinate it for 30-45 minutes.
Churn the yogurt and add ginger, garlic and green chilli paste, garam masala and mix well.
Pour this yogurt mixture over the chicken and toss, so that it gets coated well all through, with the paste. Force some mixture in the slits. Again marinate it for 6-7 hours.
Brush the chicken with little oil. Then put it in a grill and cook for about 20 minutes (almost cooked). Finally smear the chicken with oil and again roast it until fully cooked. Serve hot.