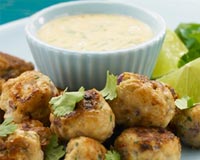 Thai Fish Balls Recipe
Thai Fish Balls Recipe
Difficulty
Easy
Rating
10.0 /

10

(1 vote)
Recipe Type
Non Veg.
Ingredients:
500 gms White fish fillets
1 tbsp Fish sauce
2 tsp Red Thai curry Paste
1 tbsp Chopped coriander leaves
Oil for frying
Pinch of Salt
How to make Thai Fish Balls:
Cut the fish fillets into small chunks.
Make paste by processing in a food processor.
Add the curry paste, fish sauce and salt.
Blend the mixture for another 30 seconds.
Put the mixture in a bowl and fold in the coriander.
Roll out small balls and refrigerate for half an hour to set firm.
Deep-fry the balls for 2 minutes and drain on a kitchen paper.
Stick a toothpick into each ball.
Serve the fish balls with sweet Thai chili sauce.