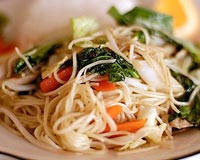 Vegetable Chowmein Recipe
Vegetable Chowmein Recipe
Difficulty
Easy
Rating
7.1 /

10

(18 votes)
Recipe Type
Veg.
Calories Per Serving
470
Ingredients:
220 gms Fresh Egg Noodles
1 cup Bamboo Shoots
1 can Water Chestnuts
1/2 Red Bell Pepper (cut into half and discard the seeds)
1 cup fresh Snow Peas
2 Celery Stalks
2 slices Ginger (minced)
2 tbsp Dark soy sauce
1 tsp Sugar
1 tbsp Chinese Rice Vinegar
1 cup Moong Bean Sprouts
2 tbsp Oil for stir-frying
How to make Vegetable Chowmein:
Cook the noodles in boiling water for 3 - 5 minutes. Drain the water.
Rinse all the vegetables under running water and drain thoroughly.
Cut the red bell pepper and celery into thin strips, string the snow peas and keep it aside.
Take oil in a wok and heat it.
Add the minced ginger and stir-fry briefly until aromatic.
Add the water chestnuts and fry then for a while.
Now add the other vegetables except for the moong bean sprouts.
Stir-fry briefly and add the noodles.
Stir in the dark soy sauce, sugar, and rice vinegar.
Now add in the bean sprouts and cook for a few more seconds and serve hot.