Schezuan Fried Rice
| | |
| --- | --- |
| Recipe Type: | Non Veg. |
| Difficulty: | Average |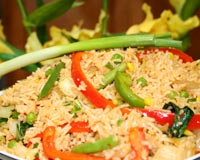 Ingredients:
250 g Basmati rice
1 Cup chicken, shredded
1 Cup prawns, shredded
1 Medium green capsicum, washed, deseeded and finely chopped
3 Spring onions, washed and chopped
1/2 Cup small shrimp, cooked
1/2 tbsp Chili sauce
2 tbsp Soya sauce
1 Carrot, washed, peeled and chopped
1/4 Cup French beans, washed and finely chopped
1 tbsp Celery, washed, ends trimmed and chopped
1 tbsp Vinegar
1 tbsp Worcestershire sauce
1/2 tbsp Ajinomoto
1/4 tsp Salt to taste
1 Onion, sliced
3-5 Drops oil
1 Garlic, chopped
1/2 Cup tinned mushrooms, washed and chopped
Cooking Instructions:
Take a vessel and pour one tsp of oil.
Fry the onion until transparent.
Add, capsicum, celery, spring onion, carrots, beans and mushrooms.
Cook them for a few minutes until they turn brown.
Take another vessel and fry the chicken and prawns.
Pour a little oil. Add chopped garlic.
Remove it when it turns brown. Keep aside.
Once oil is flavoured with garlic, place the rice in the same vessel.
Now Fry it for 5 minutes.
Combine all the vegetables, chicken and prawns.
Cook the rice in the chicken stock.
Mix all the sauces with cooked rice.
Fry for 5 minutes on high heat.
Keep stirring and serve hot.