Muthia
| | |
| --- | --- |
| Recipe Type: | Veg. |
| Difficulty: | Easy |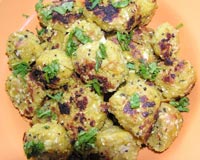 Ingredients:
1 Cup gram flour
3/4 Cup wheat flour
3/4 Cup bajra flour
1 tsp Cumin seed powder
1/4 tsp Turmeric powder
6 Crushed green chilli
2 Inch ginger, crushed
1 tsp Ajwain
1 Pinch asafoetida
6 tbsp Oil
3 tbsp Grated coconut
3 tbsp Chopped coriander
Salt to taste
Sugar to taste
6 Cloves garlic (optional)
Cooking Instructions:
Combine bajra flour, wheat flour, gram flour, salt and sugar in a big bowl.
Add cumin seed powder, turmeric powder, crushed green chillies, crushed garlic, and crushed ginger.
Mix properly and knead lightly.
Shape into long thin rolls with your fingers.
Steam for half an hour or until cooked.
Heat oil, add ajwain seeds and asafoetida.
Add muthia and fry until brown.
Garnish with grated coconut and chopped coriander leaves.