Tiramisu
| | |
| --- | --- |
| Recipe Type: | Non Veg. |
| Difficulty: | Average |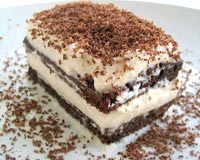 Ingredients:
1 Pound mascarpone cheese
6 Egg yolks
2 Packages ladyfinger cookies
3/4 Cup white sugar
2/3 Cup milk
1/2 tsp Vanilla extract
1-1/4 Cups heavy cream
1/4 Cup strong brewed coffee
2 tbsp Rum
1 tbsp Unsweetened cocoa powder
Cooking Instructions:
In a medium saucepan, mix egg yolks and sugar properly.
Whisk in milk and cook over medium flame until mixture boils.
Boil gently for about 1 minute.
Allow to cool slightly.
Cover tightly and place into refrigerator for an hour.
Beat cream with vanilla in a bowl until stiff peaks form.
Whip mascarpone into yolk mixture till soft.
In another bowl, mix coffee and rum.
Cut the ladyfingers lengthwise into two halves and drizzle with coffee mixture.
Place half of soaked ladyfingers on the bottom of a 7x11 inch dish.
Spread half of mascarpone mixture over ladyfingers followed by half of whipped cream over that.
Repeat the layers and add cocoa.
Cover it and place into refrigerator for 4 to 6 hours or until set.