Zucchini Casserole
| | |
| --- | --- |
| Recipe Type: | Non Veg. |
| Difficulty: | Average |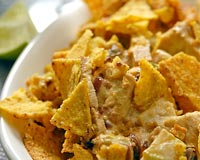 Ingredients:
1-1/2 lbs Zucchini, cut into 1/2 inch slices
4 Eggs, slightly beaten
1 lb mozzarella cheese, grated
1/2 Cup milk
3 tsp Flour
2 tsp Baking powder
1 tsp Salt
1/2 Cup breadcrumbs
Butter or margarine
Cooking Instructions:
Take small amount of water, add zucchini and cook until slightly tender.
Drain and cool.
Combine eggs, milk, cheese, salt, baking powder and flour in a bowl.
Now combine the egg mixture with zucchini.
Put in buttered casserole.
Sprinkle with bread crumbs and dot with butter.
Bake at 350 degrees F for 35 to 40 minutes.