Grilled Squid Salad
| | |
| --- | --- |
| Recipe Type: | Non Veg. |
| Difficulty: | Average |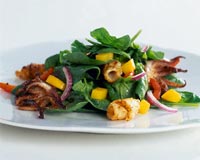 Ingredients:
500 gm Fresh large squid, cleaned and left whole
6-8 Cups assorted salad greens
1/4 Cup soy sauce
1-1/2 Cups olive oil
Juice of a large lemon
1 tsp Sesame oil
Cooking Instructions:
Soak squid in the soy sauce for about an hour.
Thread skewers through the squid two or three times hence they will lie flat on the grill.
Skewer the tentacles individually.
Grill the squid very fast, on the hottest part of the grill.
It should not take more than 60 seconds per side to turn into light brown.
Dress the greens with olive oil and lemon juice.
Now cut up the squid and scatter it on top of the salad.
Drizzle with the sesame oil.