Apricot Jam
| | |
| --- | --- |
| Recipe Type: | Veg. |
| Difficulty: | Easy |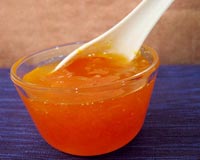 Ingredients:
3 Cups apricots, mashed
5 Cups granulated sugar
1 tbsp Lemon juice
1/2 Bottle liquid Certo
1/8 tsp Lemon rinds, grated
Cooking Instructions:
Combine apricots, lemon juice and rind.
Add sugar and stir for 5 minutes, till sugar dissolves.
Leave this mixture for about 20 minutes.
Mix pectin with this mixture, keep stirring.
Ladle into jars. Fill the jars to within 1/2 inch of top.
Cover with cloth and let it stand 24 hours or overnight till set.
Cover and freeze it.