Tahari
| | |
| --- | --- |
| Recipe Type: | Veg. |
| Difficulty: | Easy |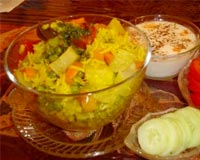 Ingredients:
1-1/4 cup Rice
3-4 Potatoes (peeled, cut into halves)
1-1/2 tsp Garlic paste
6 Cloves
1 Black Cardamom
1 stick of Cinnamon
1/2 tsp Ginger Paste
1/2 tsp Turmeric Powder
1 large Tomato
2-3 Green Chilies
1 medium-sized Onion
3-4 tbsp Oil
1/2 tsp Cumin seeds
6 Black Pepper (whole)
Salt to taste
Cooking Instructions:
Soak rice in water for at least one hour.
Heat oil and fry sliced onion till it turns translucent.
Add garlic and ginger paste and let it cook for 5-7 minutes.
Now add all spices, green chilies, chopped tomato, salt and 1/2 cup of water.
Cook it over medium heat till the spices are well mixed and the tomato get softened.
Add potato along with 1 glass of water.
Cover and cook it until the potatoes are done.
Add pre-soaked rice and water so much that it reaches 1-1/2 cm above the surface of the rice.
Again cover and cook the rice over high heat till rice becomes soft.
Now reduce the heat to the minimum and cook for 5 minutes.