Vegetable Rice
| | |
| --- | --- |
| Recipe Type: | Veg. |
| Difficulty: | Easy |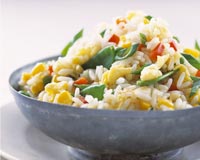 Ingredients:
1 Cup basmati rice
3/4 Cup frozen mixed vegetables
1 Onion, thinly sliced
2 tbsp Vegetable oil
1/2 tsp Ground cumin
2 Cups water
3/4 tsp Salt
1/2 tsp Garam masala
Cooking Instructions:
Wash the rice and drain well.
Take a large pan and heat oil.
Fry onions and cumin on medium heat till onions are tender, but not browned.
Add the rice and pour 2 cups water.
Add garam masala, salt and vegetables.
Cover the pan and cook over high heat.
Bring the mixture to a boil and then decrease the heat to low.
After cooking for 10 minutes, stir the rice to distribute the spices evenly.
Cook for about 25 to 30 minutes or till the rice is tender.