Beef Korma
| | |
| --- | --- |
| Recipe Type: | Non Veg. |
| Difficulty: | Average |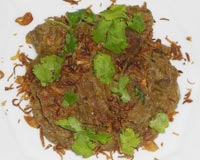 Ingredients:
2 lb Beef or lamb stewing meat, cut into 1 inch cubes
1/4 Cup blanched slivered almonds
8 Cloves garlic
6 Whole cloves
1 tbsp Gingerroot, coarsely chopped
1 tbsp Coriander seed
1 tbsp Cumin seed
1 tsp Cardamom seed, without pods
1 tsp Crushed red pepper
1-1/2 tsp Salt
1/2 tsp Ground cinnamon
4 tbsp Cooking oil
2 Medium onions, thinly sliced & separated
3/4 Cup whipping cream
1/2 Cup plain yogurt
2 tbsp All-purpose flour
1/4 tsp Garam masala
2 tbsp Snipped coriander or parsley
Water as required
Cooking Instructions:
Combine cumin seed, coriander seed, crushed red pepper, cardamom seed and cloves and grind the spices into a fine powder.
Add water, slivered blanched almonds, garlic cloves, gingerroot, salt and ground cinnamon.
Blend until the mixture has a pasted consistency.
Heat 1 tbsp oil in a 4 quart saucepan or Dutch oven and cook 1/2 of the meat till brown on all sides.
Now remove it from the heat and repeat this with remaining meat, add 1 tbsp additional oil, if desired.
Fry it until brown and then remove it from the flame.
Heat 2 tbsp oil, add onions.
Cook it over medium-high heat for about 8-10 minutes until onions begin to brown. Decrease the heat to medium and add blended spice mixture.
Cook and stir 3 to 4 minutes more or until slightly browned.
Now add meat and half cup water to the saucepan.
Cover and simmer for 1- 1/2 to 1-3/4 hours or until meat is tender, keep stirring.
Stir together yogurt, whipping cream, garam masala and flour.
Now stir the mixture into Dutch oven.
Cook and stir until thickened and bubbly.
Sprinkle Beef Corma with coriander or parsley.