Grilled Scallops
| | |
| --- | --- |
| Recipe Type: | Non Veg. |
| Difficulty: | Average |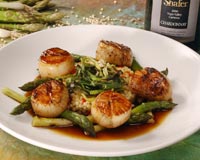 Ingredients:
1-1/2 Pounds Sea scallops
3/4 Cup butter
2/3 Cup chopped onions
1/4 Cup fresh lemon juice
3 Cloves garlic, chopped
1 Pinch salt
Cooking Instructions:
Preheat outdoor grill to medium.
Take butter in a saucepan and melt it on medium heat.
Fry onion and garlic till soft and translucent for about 5 minutes.
Remove them from the fire, and stir in lemon juice and salt.
Place scallops in a large bowl, mix it with butter mixture.
Let stand for 2 minutes.
Thread scallops onto skewers, or apply a wire grill basket.
Cook on preheated grill for 4 minutes each side.
Place butter mixture to the saucepan, and boil it.
Reduce the flame to low, and keep warm while scallops cook.
Toss it with the grilled scallops.