Turkey Divan
| | |
| --- | --- |
| Recipe Type: | Non Veg. |
| Difficulty: | Average |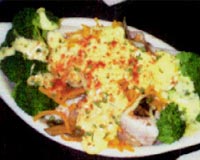 Ingredients:
1 Pound sliced cooked turkey
2 Packages frozen broccoli spears, cooked and drained
2 tbsp Butter
2 tbsp Flour
2 tbsp Grated Parmesan cheese
1-1/4 Cups milk
1 Egg yolk, slightly beaten
1/4 tsp Dry mustard
1/4 tsp Salt
1/8 tsp Ground black pepper
1/4 Cup grated cheddar cheese
Cooking Instructions:
Take a pan and melt butter.
Add flour and cook, stirring till mixture bubbles.
Remove it from the heat and gradually blend in egg yolk and milk.
Add salt, dry mustard and pepper.
Cook, until mixture is thickened and begins to boil, stirring constantly.
Mix Cheddar cheese and cook till cheese is melted.
Arrange hot broccoli and turkey in 12 x 8-inch dish, spooning sauce between the layers and on the top.
Add Parmesan cheese.
Broil about 4 inches from the heat till cheese is browned.