Turkey Chili
| | |
| --- | --- |
| Recipe Type: | Non Veg. |
| Difficulty: | Easy |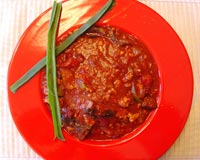 Ingredients:
1 lb Ground turkey
1 Can red kidney beans
1 Can red kidney beans
1 Large onion, minced
3 Garlic cloves, minced
1 Can ground tomatoes
1 Small green pepper, minced
1/2 tsp Celery seeds
1/8 tsp Cayenne
1- 1/2 tsp Cumin
1 Small bay leaf
2 tbsp Chili powder
1/4 tsp Basil
1-1/2 tsp Salt
3 tbsp Olive oil
3 Cups water
Cooking Instructions:
Heat oil in a big pot, add onion, garlic and fry till golden brown.
Add the turkey and cook until brown.
Add all the ingredients with it, except beans.
Bring it to a boil.
Reduce the heat and simmer, till the sauce is as thick as desired, cover it.
It can take an hour or so.
Now add the beans and heat through.